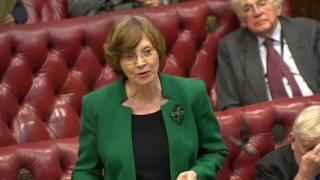 Tributes have been paid to former Labour minister Baroness Hollis after her death at the age of 77.
Patricia Hollis served as a welfare minister for eight years under Tony Blair and was a leading figure in the House of Lords for nearly 30 years.
Her husband, fellow Labour peer Lord Howarth, said she had been an "unwavering and powerfully effective" champion of the poor and disadvantaged.
Labour MP Owen Smith said her "tenacity and intelligence" would be much missed.
Lady Hollis, a former academic and leader of Norwich City Council, stood unsuccessfully three times for Parliament in the 1970s.
After being made a peer in 1990, she served on the Labour frontbench for 15 years, initially as an opposition whip and social security spokeswoman before serving as a minister throughout Mr Blair's first two terms of office from 1997 to 2005.
Once more in opposition, she led the fight in the Lords against proposed cuts to tax credits in 2015.
She was also a distinguished author, winning the 1997 Orwell Prize for her biography of the pioneering Labour MP Jennie Lee.
Baroness Smith, Labour's leader in the House of Lords, said her late colleague was "fearless in her pursuit of fairness".
"Facts were her weapons and her deep personal commitment to tackle discrimination and poverty gained wider public attention with her incredible speech on plans to cut tax credits," she said.