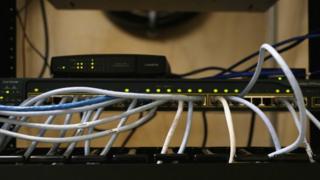 The government has been told to "up its game" over plans to guarantee a minimum internet speed for all broadband users.
Peers said the current Universal Service Obligation (USO), which will entitle consumers to a minimum internet speed of 10Mbps, was "unambitious".
But the government said the USO was a "safety net" and it had "much greater ambitions".
"The USO has an important part to play in ensuring that no-one is left behind," it added.
Labour spokesman Lord Stevenson of Balmacara opened the debate by sying the House had previously asked for the USO to specify a download speed of 30Mbps, but the general election halted work on the issue.
He said the current USO plans contradict other government initiatives.
"Surely the architecture of the USO has to be consistent with the government's productivity plan, the industrial strategy and the national infrastructure plan.
"The argument is that without some ambition the USO itself may become a constraint on all these important challenges," he said.
Liberal Democrat Lord Foster of Bath said the current plans would see a continuation of the "digital divide".
A 'smokescreen'
Conservative backbenchers also expressed frustration, with Earl Cathcart complaining about the "appalling" speeds he receives at his home in Norfolk.
He told of being unable to download a Department for Environment, Food and Rural Affairs report.
He added: "So I have to ring up my agent in Norwich, get him to print it out and send it to me in the post.
"That's hardly 21st Century communications, but at least the post is reliable."
In the same debate, crossbencher the Earl of Lytton called for a ban on using the term "up to" in advertised internet speeds, labelling them "a smokescreen of the first order" that allowed providers "to conceal poor performance".
Digital minister Lord Ashton of Hyde said: "The USO has an important part to play in ensuring that no-one is left behind," and the present minimum specification was being kept under review.