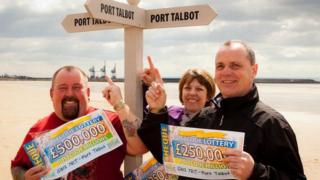 The maximum pay-out for prize draws not run by the National Lottery is set to be increased from £400,000 to £500,000.
At the same time, the maximum amount they can raise for good causes is set go up from £10m to £100m, meaning they can sell more tickets.
The People's Postcode Lottery and The Health Lottery will both benefit.
Culture Secretary Matt Hancock has vowed to find a way to let them expand without hitting National Lottery contributions to good causes.
Society lotteries, as they are known, are a popular source of fundraising for non-commercial bodies, such as charities, sports clubs and other voluntary organisations, raising a total of £255m in 2016-7.
Macmillan Cancer Support, the Royal British Legion, the Royal National Lifeboat Institution and Air Ambulances all run their own draws while the two largest operators – the People's Postcode Lottery and The Health Lottery – have raised £310m and £58m respectively since they were established in 2005 and 2011.
Their beneficiaries have included Carers Trust, Dementia UK, Mencap, Dogs Trust, Maggies and the PDSA veterinary charity.
The sector has been lobbying the government to relax the £10m limit on sales per lottery every year and the £4m limit per draw.
They claim existing limits stifle growth, cause unnecessary bureaucracy and push up costs – reducing support for good causes.
The culture department is now proposing amending the Gambling Act to raise the limits to £100m and £5m respectively while also lifting the maximum prize in each draw from £400,000 to £500,000.
'Get-up-and-go'
Culture Secretary Matthew Hancock told the BBC he wanted to do more for society lotteries, which have to give a minimum of 20% of the proceeds of ticket sales to good causes but are not barred from making profit.
"We strongly believe in the power of civil society, of people to improve the area they live in through get-up-and-go," he told Radio 4's Today. "Lotteries can be a part of that."
But he said he was also mindful of any impact on the National Lottery – which has seen a sharp fall in its returns to good causes in the past 18 months.
"The National Lottery obviously has a massively positive impact on the country in terms of how we support our sports stars and how much heritage has been saved for the nation," he said.
"We need to make sure we support society lotteries but not at the detriment of the National Lottery.
"What we are trying to do is open a debate on how best we do that but we want to see more going to good causes."
Some society lotteries have been criticised for the amount they give to good causes but they argue they complement, rather than eat into, the National Lottery's sales.
The People's Postcode Lottery, whose 38 society lotteries raised £93m on behalf of good causes last year, welcomed the government's proposed changes but urged ministers to be more "ambitious" and recognise the success of the sector.
The company said it was "odd" the limit on how much could be raised per draw had doubled between 2005 and 2009 but was now only set to rise by £1m despite the growth in the number of people taking part and proceeds raised.
"Unless the draw limit is future-proofed by being raised further than ministers propose, People's Postcode Lottery expect that additional administration costs will occur over the coming years – stopping charities getting vital funding," said its managing director Clara Govier.