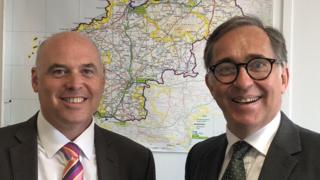 A Conservative AM whose signature got Suzy Davies into the Tory assembly leadership contest has backed her rival for the job.
David Melding said Paul Davies was "clearly the best candidate" to bring the party together.
Suzy Davies's nomination triggered a contest following the resignation of Andrew RT Davies.
She said she always knew Mr Melding was backing Paul Davies, who is the current interim leader.
Asked why Mr Melding had nominated Ms Davies, a party source said they believed Mr Melding felt it was in the party's best interests that a contest take place.
Ms Davies had been nominated by Brexiteer AMs Janet-Finch Saunders and Mark Isherwood as well as Mr Melding.
Mr Melding, a former deputy presiding officer, said: "Paul Davies is now clearly the best candidate who can bring the party together and ensure that MPs, AMs, councillors and activists work together to remove Labour from power.
"In Paul Davies, I see a future Welsh Conservative first minister with the passion and experience to lead our country.
"The Welsh Conservative team has some great ideas to change Wales, but it's only by getting Conservatives into government that we truly transform our country – that's why we need a strong experienced leader with a track record of winning elections."
Suzy Davies said: "I always knew this and I am very grateful to David for allowing our members to have a contest for leader."
Paul Davies had been nominated by five AMs – Angela Burns, Russell George, Nick Ramsay, Mohammad Asghar and Darren Millar.