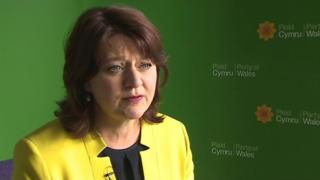 Plaid Cymru leader Leanne Wood has said she is "bitter about losing out on all the culture" of Wales as she is not a fluent Welsh speaker.
She told party activists she was resigned to not being fluent, but would not stop learning the language.
The Rhondda AM felt "angry" at being denied the chance to grow up speaking Welsh, and wanted every pupil to learn.
She launched her campaign to retain the Plaid Cymru leadership entirely in Welsh at the National Eisteddfod.
Ms Wood is being challenged for her job by Adam Price and Rhun ap Iorwerth, who also addressed activists at a leadership event in Cardiff on Tuesday.
Speaking about her proficiency in Welsh, the Plaid leader told party members: "A lack of confidence is a barrier.
"I've lost count of the times I have felt uncomfortable when Welsh speakers turn to English because of me.
"But more than anything, I feel angry. Angry that I have lost something so valuable – something I deserve to have and something my grandfather had."
'Backward'
Ms Wood's grandfather Maurice James lived in Llechryd, near Cardigan, before moving to the Rhondda, where she was then born and grew up.
She said the Welsh language left the family from the moment her grandfather was told that Welsh was "backward".
Ms Wood said she wanted every pupil in Wales to be taught in a bilingual or Welsh medium school.
But she added: "We had compulsory lessons in school that were not particularly enjoyable – there was an inability to see how those lessons were related to the outside world."
Ms Wood said she had a "cultural awakening" at university, but told BBC Wales of a gap in her understanding
"I have a lot of friends who speak Welsh," she said.
"They speak a lot about various events, be it [Eisteddfod crown winner] Catrin Dafydd's poetry or a play that might have been on.
"I'm just aware I can't appreciate them – even though I might understand most of the words, I'm not able to get all the nuances.
"There's a big chunk missing in my understanding of the cultural experience of this country which makes me feel very angry."
As she faced a contest for the leadership of Plaid Cymru, Ms Wood said it was important for the party's leader to show a positive attitude towards the language but did not think the Plaid leader or first minister should have to be a Welsh speaker.