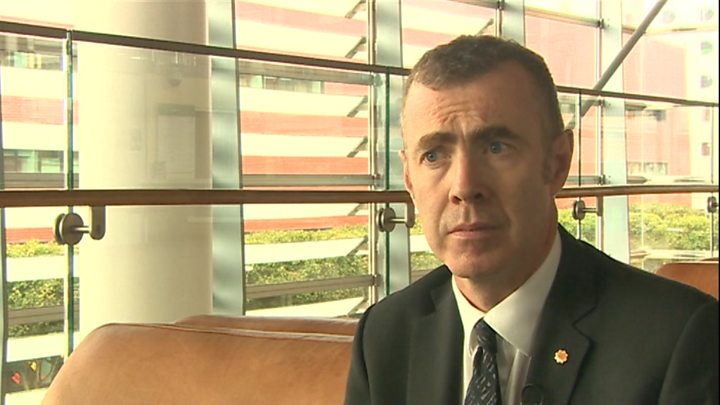 UK ministers' Brexit plans must be stopped and Plaid Cymru will campaign "hard" to keep the UK in the EU, the party's new leader has said.
Adam Price said Plaid was calling "clearly and unequivocally" for a referendum on the final Brexit terms.
"There's an emergency cord on this train and we have to pull it," Mr Price told BBC Wales.
Theresa May has rejected the idea of another referendum saying the EU referendum result must be respected.
Following the public vote in 2016, the Plaid Cymru leader at the time, Leanne Wood, said the result "was not narrow enough to be overturned or called into question".
But Mr Price said he believes the "fundamentals have changed" since then "because the British political establishment have proven themselves so singularly unable to deliver anything, Brexit or otherwise".
The Carmarthen East and Dinefwr AM added: "I have no faith whatsoever in either of the two British parties to deliver anything sensible and we're running out of time, that's the reality.
"I would love it if there were a Damascene conversion, even at this late stage, and that Jeremy Corbyn and Theresa May who both seem to agree on taking us out of the single market, actually change their minds and say, 'no, actually, the sensible way forward is to remain within the customs union and the single market, while delivering on the mandate to leave the European Union'.
"But that's clearly not going to happen and so what we're left with, I'm afraid, is a binary choice between whatever mess is offered up to us by the British political establishment or actually the alternative is sticking with what we know.
"We're on the Titanic. We're heading to an iceberg.
"We have to use every opportunity that is there to avert what I think could be one of the biggest disasters that has befallen our people for many a generation."
The prime minister's plan for Brexit, what's known as the Chequers agreement, involves leaving the EU's single market and customs union but creating a free trade area for industrial and agricultural goods with the bloc and aiming for a "combined customs territory".
Mr Price said Theresa May's government had rejected the "sensible approach" put forward jointly by Plaid and the Welsh Labour government in January 2017 for the UK to remain in a customs union with the EU and retain "full and unfettered access" to the single market.
He added that he could not "envisage any circumstances" in which Plaid's four MPs would vote for the prime minister's Brexit plans in the House of Commons.
Over the summer, Adam Price's constituency colleague Jonathan Edwards, Plaid MP for Carmarthen East and Dinefwr, attacked Leanne Wood for showing "no leadership" on Brexit.
Asked about the comments, Mr Price said: "We have been the most united of almost any political party in these islands on this question.
"Now, obviously, everyone will have a different emphasis and that's part of a personal political style.
"But in terms of our policy position we've always been consistent about this question."
'Political manoeuvring'
UKIP leader Gerard Batten responded: "The people of Wales voted to leave the European Union and return our United Kingdom to the status of an independent democracy.
"Mr Price should respect their decision, not seek to short-change them with his political manoeuvring."
Mr Price defeated former leader Leanne Wood in the Plaid leadership contest last week.