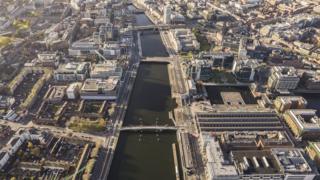 Dublin City Council is reconsidering a plan to house homeless on a cruise ship.
The idea of renting a private cruise ship for 100 to 150 homeless individuals was previously dropped.
Owen Keegan, the council's chief executive, told Ireland's Housing Minister in September the plan could be "revisited".
The correspondence was released to the Irish Times.
There are 1,367 families in homeless accommodation in Dublin, latest figures show.
This is an increase of 229 families since September 2017.
The figures are compiled by the Dublin Region Homeless Executive.
'Targets unlikely to be achieved'
Mr Keegan was responding to letters sent by Irish Minister for Housing Eoghan Murphy to Dublin's four local authorities about targets to provide additional homeless family hub accommodation and beds for rough sleepers.
Mr Keegan said that targets to house 300 extra homeless families in family hubs were "unlikely to be achieved", according to correspondence released under the Freedom of Information Act.
He told the minister that the chances of meeting these targets would be increased if previous council proposals such as the cruise liner plan were revisited.
Speaking to the Irish Times, Brendan Kenny, head of the council's housing services, the council previously decided against pursuing the plan, "but it is something we are not ruling out" for the future.
Raise the Roof
On Wednesday, approximately 12,000 people took part in a national rally in Dublin to protest the housing crisis.
The demonstration took place ahead of a motion in the Dáil on homelessness and housing.
Housing Minister Murphy reiterated on Wednesday night that emergency responses to the housing crisis are being put in place.
In a tweet on Thursday, he said the cruise ship idea is not suitable for homeless families in need.