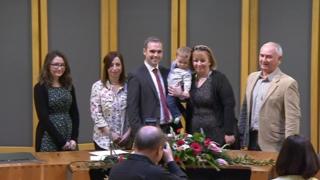 One of Wales' youngest assembly members has died at the age of 34.
Steffan Lewis, the Plaid Cymru AM for South Wales East, was diagnosed with terminal bowel cancer in late 2017.
Elected as an AM for South Wales East in 2016, he had served as the party's spokesman on Brexit.
Mr Lewis, who was brought up in Crosskeys and Tredegar, leaves his wife Shona and his son, Celyn. "He was our rock, he was our anchor and most certainly, our hero," his family said.
In a tribute, Steffan Lewis's family said: "To lose Steff is the greatest possible blow to our family and we know that there are people throughout Wales who share our sense of loss.
"Steff inspired us every day.
"Steff fought this disease with the same courage and determination that he applied to his politics, and even when he was in great pain and discomfort, he continued to serve the people he so dearly loved to represent."
His family said they will ensure "his legacy will live on forever – in our community, in our hearts and above all through his son".
"Wales will not forget his contribution and his determination to make a difference to people's lives," they added.
Adam Price, Plaid Cymru leader, said Mr Lewis was beloved by his friends in Plaid Cymru.
"We are in a state of shock and grief at losing our very brightest star," he said.
"He will be remembered as a politician of rare talent who achieved an incredible amount during his time in elected office, which has been cut short in such harrowing circumstances."