If you're looking for the best cheap laptop deals, then you've come to the right place, especially as the January sales bargain season is in full swing. Many retailers are slashing prices in their laptop sales at numerous points of the year and our dedicated team of deal hunters are on the lookout to find the best laptop deals from the most reliable stores. So, for the best value cheap laptops, with genuine discounts over the trumped up fake 'deals' take a look below.
If you're after a cheap laptop for web browsing and other simple tasks, or you need a new laptop for school or work, or you simply need a really powerful laptop for as little money as possible, we've got you covered.
At the top of the page you'll find our selection of the latest and best cheap laptop deals of the week followed by a selection of popular quality laptops that retailers like to discount on a regular basis. Underneath those laptop deals you'll find our pick of the latest best laptops and the best available prices. If you're an Apple fan, be sure to take a look at our cheap MacBook deals page too.
If you're from the States or Down Under, be sure to check out our selection of the top laptop deals in the US or in Australia in our always-updated guides.
The best cheap laptop deal of the week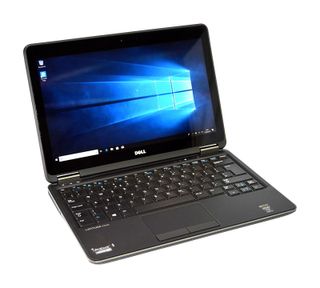 Dell Latitude E7240 Ultrabook from £168 at eBay
This refurbished ultrabook is enormously powerful for such a low price and comes with a six-month warranty as standard. £168 is the price if you want the Windows 10 OS pre-installed – £150 if you're flying solo. Impressive spec on this 12-inch HD touchscreen laptop include an i5 processor, 4GB of RAM (or choose 8GB for just £18 more) and a 128GB SSD. You won't find better value for such a low price if you don't mind it being a refurb.
View Deal
Other brilliant laptop deals this week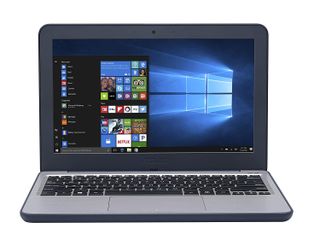 Asus VivoBook E201NA 11.6-inch laptop £159.99 at Amazon
If you need a basic, super cheap laptop that doesn't take up much space when you're on the move, this is a bit of a steal at just under £160. With 4GB of RAM it'll handle basic tasks easily and the 64GB of storage should be fine unless you want to stuff it with movie files.
View Deal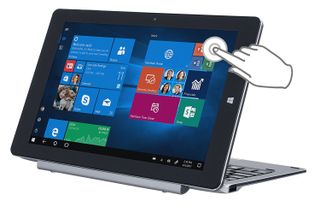 Gemini TC10 10.1-inch 2-in-1 laptop £169.97 at Amazon
This is a mega cheap 2-in-1 laptop/tablet convertible with some decent bang for your buck. 4GB of RAM, a HD screen (nice for streaming!) and 64GB of storage make this a very handy device for basic work needs with casual browsing and Netflix sessions catered for too.
View Deal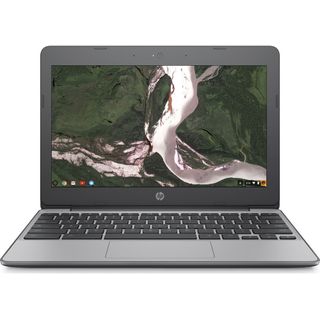 HP Chromebook 11 £179 at Amazon
If you're after one of the cheapest Chromebooks around to try out saying goodbye to Windows, then this 11-inch model is worth a look. 4GB of RAM is enough for very basic work activities, although the 16GB of storage is a bit rubbish. There is free access to 100GB of online storage though to make storing your files online super easy.
View Deal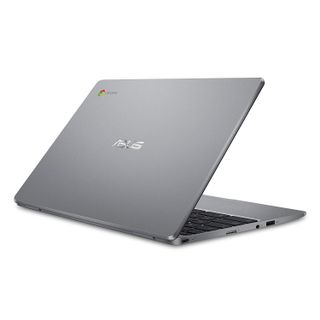 Asus Chromebook C223NA £185 at Amazon
Chromebooks like this are super cheap and a viable alternative to your standard Windows laptop, even more so if you're used to using Google's suite of office apps. This one comes with a useful 4GB of RAM and 32GB of storage, which is surprisingly roomy without the bloated Windows OS.
View Deal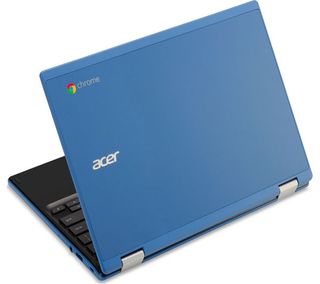 ACER CB3-131 11.6-inch Chromebook £199 at AO.com
If you're happy to say goodbye to Windows and take advantage of the very capable Google/Android ecosystem services for basic laptop needs this 11.6-inch Chromebook comes with a respectable 9-hour battery life. Shame about the small 32GB hard drive, but you can always expand with a portable drive or USB stick.
View Deal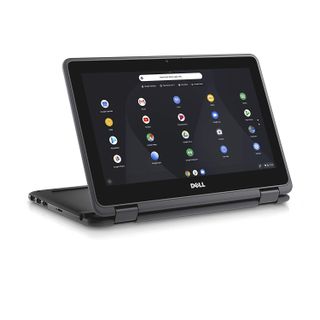 Dell Chromebook 11 2-in-1 laptop £299.99 at Amazon
This is more expensive than most of the other Chromebooks on this page, but it is a 2-in-1 laptop – which means it has a touchscreen and can be folding over to use like a tablet. You're also getting 4GB of RAM and an extended 64GB of storage.
View Deal
HP 14-cm0013na 14-inch laptop £349 at AO.com
£50 cheaper today. The performance levels on this cheap laptop are seriously high for such a low price. If you're after a machine that loads fast and can multitask like a boss when handling multiple daily work tasks then the 8GB RAM and 256GB SSD combo should suit you fine. You want more? You also get an HD screen and AMD Ryzen 3 processor.
View Deal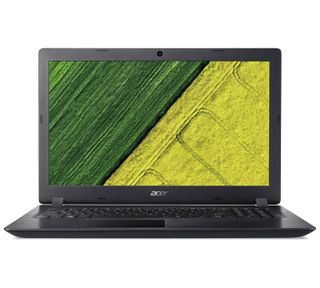 Acer Aspire 3 14-inch laptop – £359 at AO.com
This popular and portable Acer model has an especially large 256GB SSD considering the super low price you're getting. 4GB of RAM is plenty to handle standard multi-tasking activities like checking email, listening to music, running plenty of browser tabs, editing documents and so on. The Full HD screen is great for relaxing with movie content too.
View Deal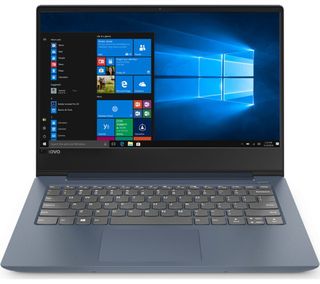 Lenovo IdeaPad 330S i5 4GB RAM £499 at Currys
If you want a great laptop but really want to keep the budget under £500, this one just about squeezes in. 8th-gen i5 processor and a 256GB SSD all inside a sleek blue shell. This version comes with 4GB of RAM which is plenty for basic day-to-day activities. But if you need 8GB then you can get one below for an extra £80.
View Deal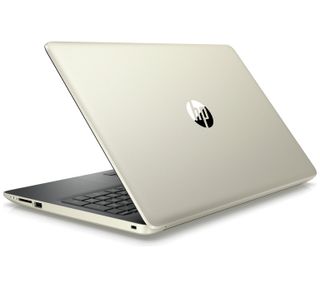 HP 15.6-inch laptop – £499.99 at Argos
If you're not too bothered about a SSD for storage we'd take a look at this HP laptop deal. It comes with a roomy 1TB hard drive and a meaty 8GB of RAM making it great for multi-tasking with minimal slowdown.
View Deal
Surface Pro (2017) and Type Cover £749 £629 at Argos
This previous-gen Microsoft Surface Pro offer is a fantastic bundle as it comes with the Type Cover keyboard and a massive £120 discount. It only has an M processor and 4GB of RAM. But if it's the Surface Pros style and portable nature you're after more than raw power this well worth a look and it's still more powerful than the newer Surface Go at this price. If you need more grunt, check out the Surface Pro 6 offer further down this page.
View Deal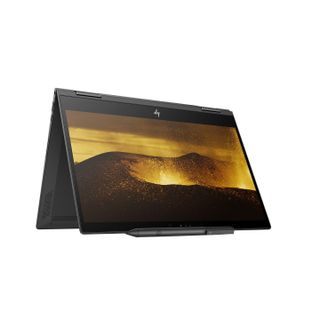 HP Envy x360 £879.99 £649 at Currys
HP's versatile Envy x360 convertible laptop has had £230 knocked off. This version comes with an AMD Ryzen 5 processor, 8GB RAM and 128GB SSD. This is a decent 2-in-1 for regular tasks like browsing the web and watching films on, thanks to its gorgeous full HD display.View Deal
We'll continue adding the best laptop deals in the latest sales as we find them. Up next, you'll find the latest prices on some of the most popular laptops around, followed by the best deals on Vocal Views's favourite laptops.


Where to find more cheap laptop sales:
Amazon: retail giant is often the cheapest in the UK.
AO: lots of cheap laptops at this growing electronics specialist.
Argos: home delivery or pick up a cheap laptop locally today.
John Lewis: models come with at least two-year guarantee.
Very: often has plenty of voucher codes or 'buy now pay later' options.
ebuyer: the UK computing specialists have some great promotions.
Laptops Direct: specialist UK store has a huge selection of laptop deals.
Dell: get a great laptop deal direct from Dell.
Currys: the retailer that's seemingly always having a sale.


Popular cheap laptop deals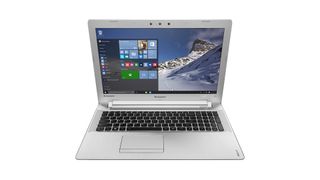 1. Lenovo Ideapad 510
A powerful and stylish 15.6-inch laptop
Intel Core CPU
Optional Nvidia graphics
SSD and HDD options
There have been some generous offers lately for this popular Lenovo laptop series. Any choice between the 4GB and 12GB RAM options should run multiple applications at once. Hard drive sizes vary from 256GB SSD to 1TB in regular form. Some options also include dedicated Nvidia GeForce GTX 940MX graphics.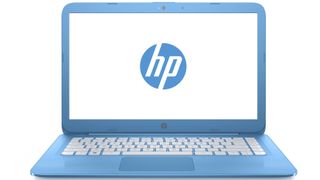 2. HP Stream 14
Big and colorful for cheap
CPU: Intel Celeron N3060 | Graphics: Intel HD Graphics 400 | RAM: 4GB | Screen: 14-inch HD (1,366 x 768) SVA BrightView WLED-backlit | Storage: 32GB eMMC
Larger than most budget options
Free 25GB of Dropbox for 1 year
Barely HD screen
At around £200, the HP Stream 14 is decent value if you're after something to cover the basics like web browsing or document editing. It's competitively priced again the cheaper Chromebooks out there despite the 14-inch screen and Windows 10 operating system.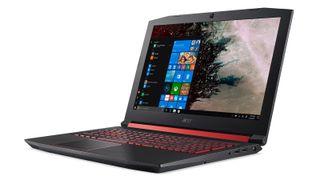 Acer Nitro 5
A decent pick for gaming laptop buyers on a budget
CPU: Intel Core i5 – i7 (8th-generation); AMD Ryzen 5 2500U | Graphics: Nvidia GeForce GTX 1050 – 1050 Ti (4GB GDDR5); AMD Radeon RX 560X | RAM: 4GB – 16GB | Screen: 15.6-inch FHD (1920×1080) | Storage: 256GB SSD or 1TB HDD (5400 rpm) – 128/256GB SSD + 1TB HDD
Adjust fans for your needs
Decent battery life
No SSD on cheapest models
As one of the cheapest gaming laptops that will still run games at decent settings, the Acer Nitro 5 is well worth a look if you're wanting to get into PC gaming and play modern games too (just don't expect to be running Battlefield V on ultra settings ok?). The design is a bit plasticy and there's no SSD on the cheapest models, but given the low price and the power of the internal spec inside we're more than willing to look past that to get our gaming fix on the go.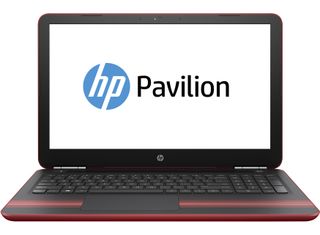 4. HP Pavilion 15
The de facto learning laptop lives on
CPU: AMD dual-core A9 APU – Intel Core i7 | Graphics: AMD Radeon R5 – Nvidia GTX 1050 | RAM: 6GB – 16GB | Screen: 15.6-inch HD (1,366 x 768) – FHD (1,920 x 1,080); touch optional | Storage: 512GB SSD – 1TB HDD
Thinner and lighter
Tons of options
Shallow, squishy keyboard
A sturdy choice for a study laptop for school/college/uni. The HP Pavilion 15 has more power that the average pupil needs while keeping the costs sensible. If you're not needing extra power of an expensive laptop for video/photo editing, this is more than enough for web browsing, playing some tunes on Spotify and editing coursework.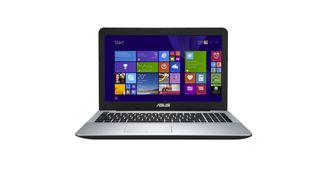 5. Asus X555LA
A great all-rounder laptop
i3/i5 processors
1TB hard drive
Stylish finish
From afar, this laptop might be mistaken for a MacBook Pro which tells you a lot about its level of quality. Don't expect a full metal chassis at this price, but this is probably one of the best looking plastic bodies in its category. There are plenty of ports (old and new), 4GB of RAM and a massive 1TB hard drive. The cheapest models have a respectable i3 processor, but you can get the more powerful i5 versions for not much more if you need that extra kick. Asus saw it fit to include a DVD writer as well as a 15.6-inch full HD screen. Despite this large display and the presence of a numeric keypad, it's just a tad thicker and heavier than an Ultrabook.
Why not upgrade your storage with a cheap hard drive or SSD? See the best hard drive and SSD deals.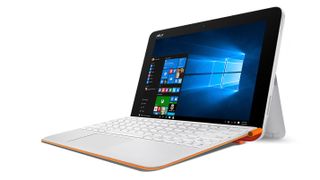 6. Asus Transformer Mini T102HA
Built-in fingerprint sensor
11-hour battery life
Stylish design
This is the newer version of the Asus Transformer Mini series. This upgrade includes a fingerprint sensor and double the RAM at 4GB for speedier performance. For your money, this is one of the most impressive two-in-one transformer models out there.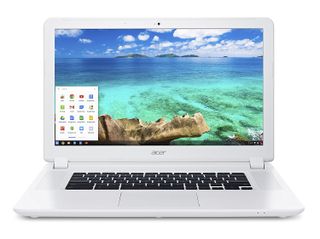 7. Acer Chromebook 15
This Chrome laptop is super cheap
CPU: Intel Celeron 3205U 1.5GHz (dual-core) | Graphics: Intel HD Graphics | RAM: 4GB | Screen: 15.6-inch, 1,920 x 1,080 pixels | Storage: 32GB SSD | Connectivity: 802.11ac Wi-Fi, Bluetooth 4.0 | Camera: 720p | Weight: 4.85 pounds | Dimensions: 15.08 x 9.65 x 0.95-inches
Very capable Chrome OS
Great display
Excellent battery
This is one of the larger Chromebook experience out there for someone looking for a full-sized laptop with an excellent screen at a super low cost. The 4GB of RAM running the Chrome OS is super fast and will allow you to really pile up tabs and apps without slowing down. The battery will easily last the best part of a day for most users too.
The best deals on our favourite laptops
We've reviewed loads of laptops over the years: we've seen the good ones, the great ones and the ones to avoid. Sometimes the best laptops pop up online at some truly deal-tastic prices. So in this section, we list the very best laptops out there and the best deals on each one.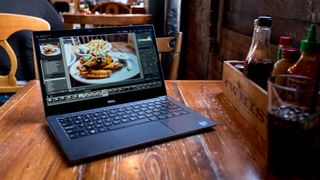 1. Dell XPS 13
Dell's latest Ultrabook is simply the best laptop in the world
CPU: Intel Core i3 – i7 | Graphics: Intel HD Graphics 520-620 | RAM: 8GB-16GB | Screen: 13.3-inch QHD+ (3200 x 1800) | Storage: 128GB-512GB SSD
Gorgeous bezel-less display
Faster than ever
Lightweight, compact frame
The Dell XPS 13 is, bar none, the best laptop you can buy today. It features a revolutionary design that's astonishingly thin and light. Fitting a 13.3-inch screen into such a small frame means Dell has created a nearly borderless Infinity display. It's a powerful and long lasting machine even by today's Ultrabook standards. The XPS 13 comes outfitted with Intel's latest Skylake processors plus lighting, quick storage and memory, all while coming in at a very affordable starting price. For these reasons, it easily takes the top slot as the best Ultrabook, the best Windows laptop and the best overall laptop.
2. Dell Inspiron 15 Gaming
This gaming that doesn't cost a fortune
CPU: Intel Core i5 – i7 | Graphics: Nvidia GeForce GTX 1050 – 1050 Ti | RAM: 8GB – 16GB | Screen: 15.6-inch, FHD 1920 x 1080 – UHD 3840 x 2160 anti-glare LED backlit | Storage: 1TB SSHD 8GB – 1TB HDD, 128GB SSD
Stellar battery life
Ports for days
Great value
Looking for a quality gaming laptop but want to keep things under that unappealing £1000 mark? Then Dell has you covered with the Inspiron 15 Gaming range.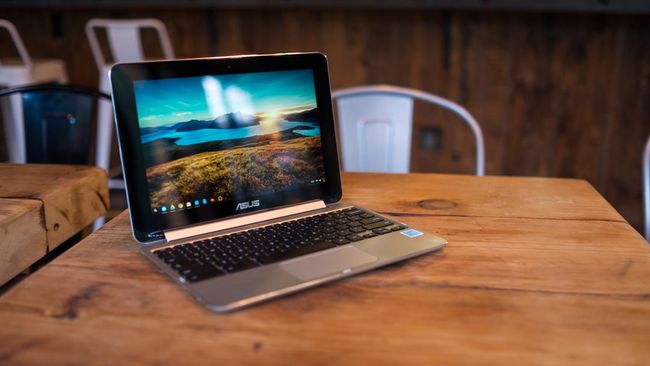 3. Asus Chromebook Flip
A flipping premium Chromebook for almost nothing
CPU: Rockchip 3288-C | Graphics: ARM Mali T624 | RAM: 2GB – 4GB | Screen: 10.1-inch, WXGA (1280 x 800) IPS multi-touch | Storage: 16GB eMMC
Fully metal construction
Terrific value
Excellent battery life
The Asus Chromebook Flip isn't perfect, but it's an impressive little piece of kit. Plus, it's so affordable that you might want to pick one up just to have a Chromebook on hand – even if you already own a MacBook or Windows laptop. Aside from the budget price tag, the Flip is one of the best-built Chromebooks to blaze the trail onward for more convertibles. Touchscreen functionality feels more logical, with a screen that actually rotates. The Flip meets all the core tenants of an ideal Chrome OS device.
4. HP Pavilion x2
The most affordable Windows 10 touchscreen convertible laptop
CPU: 1.44GHz Intel Atom x5-Z8300 | Graphics: Intel HD graphics | RAM: 2GB | Screen: 10.1-inch, 1280 x 800 WXGA WLED IPS touchscreen display | Storage: 32GB eMMC
Long battery life
Absurdly affordable
Detachable keyboard
This 10-inch hybrid comes packing a surprising amount of goods considering its small size. It's outfitted with an HD screen and more than enough power to get you through a simple day of web browsing and even image editing. When you're ready kick back with some media streaming, you can pop off the 10-inch tablet.
5. Asus ROG Strix GL502
CPU: Intel Core i7 | Graphics: Nvidia GeForce GTX 1060 – 1070 | RAM: 16GB DDR4 | Screen: 15.6-inch full HD 1920 x 1080 IPS | Storage: 128GB – 256GB SSD, 1TB HDD
Full HD gaming
Superb vibrant screen
Middling battery performance
The Asus Strix GL502 is undoubtedly one of the best gaming laptops around for gaming in 1080p. It'll run with the settings cranked with games like Overwatch not dipping below 60fps. The battery life isn't the best, but the display, performance and built-in sound system more than make up for it.
Image 1 of 4
Image 2 of 4
Image 3 of 4
Image 4 of 4
6. Lenovo Yoga Book
Is this the netbook of the future – the ultra netbook?
Insanely thin and light
Halo Keyboard surprisingly accurate
Excellent display
Clever Create Pad
Lenovo has crafted a brilliant, forward-thinking device that could very well create a subcategory in computing all of its own. The modest specs hold it back from taking on the big boys in terms of raw power, but the innovative digital touchpad keyboard and drawing surface look like trendsetters to us. The Android version is currently about £100 cheaper than the Windows one.
7. Microsoft Surface Pro 4
The tablet that can replace your laptop
Weight: 766g/786g | Dimensions: 292.10 x 201.42 x 8.45mm | OS: Windows 10 Pro | Screen size: 12.3-inch | Resolution: 2736 x 1824 | CPU: Various | RAM: 4GB/8GB/16GB | Storage: 128GB | Battery: up to 9 hours | Rear camera: 8MP | Front camera: 5MP
Larger, sharper screen
Vastly improved Type Cover
Built in kickstand
Can a tablet really replace your laptop or home PC? That's still up for debate, but the best tablet trying to make that happen is the Microsoft Surface Pro 4 – and it does a fine job with the full blown version of Windows 10, an integrated kickstand and optional keyboard attachment. Great for for creative professionals, students and everyday folks alike – it's only the premium price that push it down the list, but if you're willing to pay for it, you're getting a lot of power. A LOT.