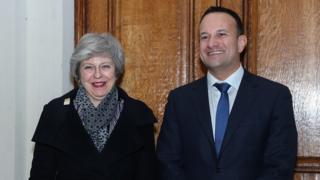 Theresa May is meeting Leo Varadkar to update him on her ongoing efforts to get changes to the Brexit withdrawal deal.
The prime minister and taoiseach (Irish prime minister) are having dinner in Dublin on Friday night.
The EU has said it will hold more talks with the UK to help the prime minister get a Brexit deal through the Commons
The meeting is taking place after Mr Varadkar met Northern Ireland's main political parties in Belfast.
Mrs May arrived at Farmleigh House in Dublin shortly after 20:00 BST.
It is believed the talks, anticipated to last about two hours over dinner, will focus on Brexit and the ongoing political deadlock in Northern Ireland.
The prime minister is accompanied by the UK's Brexit negotiator Olly Robbins and her chief of staff Gavin Barwell.
Earlier, Attorney General Geoffrey Cox met his Irish counterpart after travelling to Dublin for talks.
Speaking in Belfast, Mr Varadkar said it was "not a day for negotiations" but that it was an opportunity to "share perspectives".
He also said he was looking to restore confidence and trust with the prime minister when they meet on Friday night.
Several cabinet ministers have told the BBC a no-deal Brexit could lead to a vote on Irish unification.
But DUP leader Arlene Foster poured cold water on the prospect, saying that the 1998 Good Friday Agreement sets out "criteria for a border poll, and it hasn't been met – therefore it will not be called".
What emerged from the PM's Brussels trip?
On Thursday, Mrs May met EU leaders in Brussels in a bid to secure changes to the Irish border backstop in the Brexit agreement.
European Commission President Jean-Claude Juncker ruled out legally-binding changes to the backstop clause in the 585-page withdrawal document.
But he said the EU would be open to adding words to the non-binding future relations document that goes with the withdrawal agreement.
Other officials, including European Parliament Brexit co-ordinator Guy Verhofstadt, have said the backstop is "non-negotiable".
What is the Irish government's view?
On Wednesday, Mr Varadkar held meetings with top EU officials about the backstop and Ireland's plans for a no-deal outcome.
He said that while he was "open to further discussions" with the UK government about post-Brexit relations, the legally-binding withdrawal agreement remained "the best deal possible".
The backstop was needed "as a legal guarantee to ensure that there is no return to a hard border on the island of Ireland", he added.
Speaking in Belfast on Thursday, Mr Varadkar said "time is running out" to agree a deal, but that work needed to continue in order to ensure agreement was reached.
"When it comes to Brexit this is a negotiation that has the UK on one side and EU on the other," he said.
"Any negotiation can only happen with Ireland and the EU working together."
Analysis: Diplomacy over dauphinoise potatoes
By Jayne McCormack, BBC News NI Political Reporter
A Friday night in Dublin for Theresa May as she continues trying to find a way through for her Brexit deal.
The PM came face-to-face with her Irish counterpart over a fillet of beef with dauphinoise potatoes and green beans.
It's been a diplomatic whirlwind of a week as both Leo Varadkar and Mrs May have bounced from Belfast to Brussels, both seeking backing for their respective positions.
It seems certain that the House of Commons won't pass any Brexit deal that includes the current backstop.
But the Irish government again today insisted it has to stay, with Mr Varadkar adding that he and the EU speak with one voice on this.
On Monday, UK-EU talks begin (again) in Brussels – but there's no sign of a compromise coming down the tracks.
Where are we with the backstop?
It is the insurance policy to maintain an open border between Northern Ireland and the Republic of Ireland unless and until another solution is found.
The UK and EU made a commitment to avoid physical barriers or checks on the border, if no UK-EU trade deal is agreed before the Brexit transition period ends.
Many people are concerned that the return of such checks would put the peace process at risk.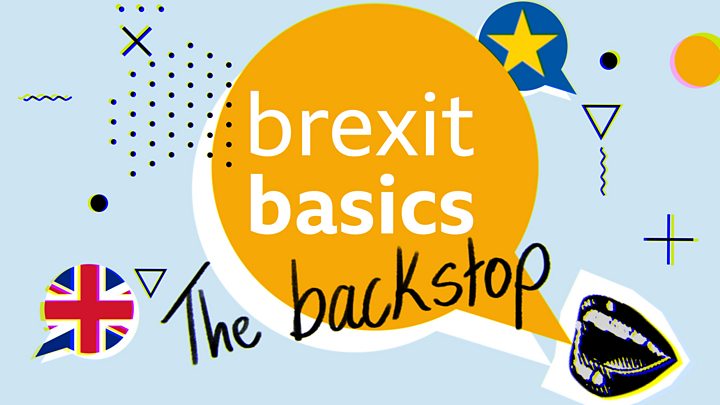 But there has been opposition to the backstop from the Democratic Unionist Party (DUP) and Brexiteer MPs, who believe its terms could keep the UK tied to EU rules in the long term.
Last month, MPs backed an amendment in Parliament calling for "alternative arrangements" to replace the backstop.
A group of Conservative MPs has held talks aimed at finding other Brexit options that would avoid a hard border.
On Wednesday, it emerged that they had scrapped a planned visit to Northern Ireland to meet business representatives, however the invite has since been re-issued.
Business leaders in Northern Ireland are due to attend a meeting at Stormont on Friday with the HM Revenue and Customs (HMRC) border delivery group to discuss post-Brexit border arrangements.
The meeting had been cancelled three times.
Why has Leo Varadkar travelled to Belfast?
The Irish government said Mr Varadkar's talks in Belfast would provide him with an opportunity to discuss the "ongoing political impasse" in Northern Ireland, which has been without a devolved executive and assembly for more than two years.
He said he had travelled north to "hear the perspective of the main parties".
"We share common objectives to make sure that there is a deal in relation to Brexit, to avoid a hard border, and to maintain frictionless trade."
Mr Varadkar's trip comes days after Theresa May met the parties at Stormont to discuss her bid to make changes to the withdrawal agreement.
How have the Northern Ireland parties reacted?
The DUP were the first party to meet Mr Varadkar, with others due to have talks with the taoiseach later on Friday.
DUP leader Arlene Foster said her party had a "wide-ranging" discussion.
Mrs Foster also said some people were engaging in "project fear" with the Brexit negotiations.
The party's deputy leader, Nigel Dodds, said the backstop "is the problem", but would not specify which possible alternative to it that his party is fully backing.
Sinn Féin's vice-president Michelle O'Neill said her party would "hold the taoiseach's feet to the fire" when it comes to defending the backstop.
She said he had given her an assurance he would remain firm with his stance.
The party also said they have been calling repeatedly for a border poll, and that they had urged Mr Varadkar to begin planning for one.
The UUP's Brexit spokesperson Steve Aiken said there needed to be "level-headed conversations" and that the UUP had told the taoiseach how concerned they are by the terms of the Irish border backstop.
The UUP said it is working on a number of alternative proposals it wants the UK and EU to consider.
Alliance Party leader Naomi Long said they had a very constructive and wide ranging discussion with Mr Varadkar.
"It's fairly clear those this week suggesting there is some chance of the UK and Irish government doing a side deal without the EU are chasing after a no way scenario," she said.
The SDLP leader Colum Eastwood said that it had been a "good meeting" and added that he and the taoiseach are "on the same side of this argument".
"We have been watching with some dismay what has been going on in Westminster over the last couple of months," he said.
"I don't think anybody within the Irish government or the European Commission sees any opportunity for diluting the protection of citizens in Northern Ireland."
What happens next?
Brexit Secretary Steve Barclay and EU negotiator Michel Barnier will hold talks in Strasbourg on Monday, as the EU and UK Brexit negotiating teams discuss proposed changes to the deal.
British sources say the talks will include discussion of the legally-binding withdrawal agreement, the BBC's Brussels reporter Adam Fleming said.
An EU source said the further talks are an opportunity to listen to the UK's ideas.
Mrs May and Mr Juncker will meet again before the end of February, to review progress.
The prime minister is expected to put the deal to a vote in the Commons towards the end of February.
She said the plan must change if it is to win the support of MPs who urged her to seek "alternative arrangements" to the backstop when rejecting the deal last month.