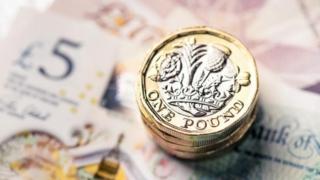 The UK posted a smaller-than-expected budget surplus in July as government spending increased.
The lower July surplus leaves the government finances in a weaker position overall for the first four months of this financial year.
That raises questions over prime minister Boris Johnson's room for fulfilling promises over tax cuts and more spending.
Borrowing so far this year has grown to £16bn, an increase of 60% on last year.
July spending
A growing wage bill and higher spending on goods and services was behind the lower July surplus, which fell to £1.3bn.
Analysts had been expecting a £2.7bn surplus, which would have been less than the £3.6bn booked last year.
The government typically posts surpluses in January and July because taxpayers submit their self-assessment returns in those months. Those tax payments reached £9.4bn in July, £300m more than the same time last year, helping to balance increased government spending for that month.
However, overall the government's borrowing position has worsened, said Howard Archer, chief economic adviser to the EY ITEM Club.
"July is typically a month where the public finances are in surplus, given that it sees many medium-sized and large companies (as well as oil and gas firms) make corporation tax payments, while the second payment on account for self-assessment liabilities is also due," he said.
"But central government revenues were down 0.5% on a year earlier, reflecting a combination of weak activity and the generous increases in income tax allowances which came into force in April. At the same time, current expenditure has continued to run at a pace well ahead of that implied by the full-year plans."
The lower July surplus follows a steep climb in borrowing in June. That month's £7.2bn deficit was driven by higher debt interest payments and rising spending on services.
It was the highest June borrowing figure since 2015.
Brexit bill
The lower-than-expected surplus underlines the budget constraints facing Boris Johnson, who has promised to increase spending ahead of Brexit.
The prime minister has made billions of pounds of spending commitments in his first few weeks in office and the government is also facing a hefty bill for no-deal preparations.
July's surplus figure, released on Wednesday, forms part of a complicated picture for the UK economy, which shrank by 0.2% between April and June, the first economic contraction since 2012.
The unemployment rate increased slightly to 3.9% in the three months to the end of June, but this remained close to a 44-year low.
Nevertheless, median disposable household income was forecast to grow by 1.4% to £29,400 over the course of the year.
And people are feeling the effects of that extra money in their pockets. Household spending grew by 0.5% between April and June as wage growth hit an 11-year high.
It has never been cheaper for the government to borrow, which it does by issuing bonds.
The interest paid on 10-year UK Treasury bills has fallen to historic lows. They now return just 0.5%.