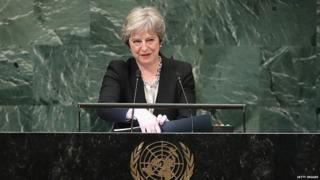 Brexit does not mean the UK will be turning its back on international co-operation and multilateral institutions, Theresa May has insisted.
She told the UN General Assembly that, outside the EU, the UK would still work with allies to uphold shared values.
The Brexit vote, she argued, was a "clear demand" from voters for greater accountability in decision-making and their wishes must be delivered.
The prime minister is due to hold talks with US President Donald Trump later.
Mr Trump has questioned the role of institutions like the UN, saying the "ideology of globalism" had run its course, and the US under his leadership was pursuing a "doctrine of patriotism".
In her speech to the UN, Mrs May sought to reassure those who fear the UK's departure from the EU next March will see the country turning in on itself and disengaging from pressing international problems.
Citing the UK's continued membership of the G7, G20 and Nato among other collective bodies, she said there was "no single model for balancing the democratic demands of our public with the imperative to co-operate internationally".
"The vote by the people to leave the EU was not a rejection of multilateralism or international co-operation.
"It was a clear demand for decisions and accountability to lie closer to home. I believe the role of leadership in these circumstances is clear – it is delivering on the democratic wishes of our people and international co-operation, working with allies and partners in pursuit of our shared values."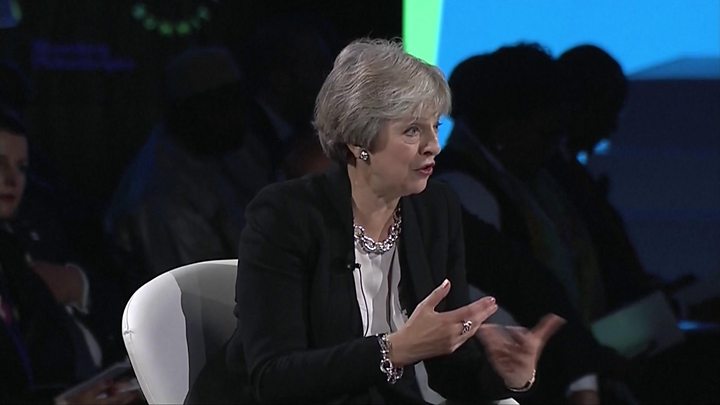 The prime minister re-iterated her continued support for an international deal on Iran's nuclear programme – which the US is pulling out of – and said other threats to the international order, like nuclear proliferation and state-sponsored terrorism, could only be addressed by countries working together.
Earlier, Mrs May's approach to Brexit was questioned at a meeting of global business leaders in New York.
The chief executive of the leading investment company, Blackstone, told her that from a risk management perspective, the future was a bit daunting.
At a global business forum organised by Bloomberg, Steve Schwarzman asked the prime minister "how bad things could get" in the event of an unacceptable deal or the talks breaking down altogether.
Mrs May repeated her confidence that a deal could be reached, but she acknowledged there was uncertainty.
She said there were still several weeks of intense negotiation to be done with the EU and argued that Brexit brought a "sharper focus" to existing efforts to prepare the UK economy for the future.
But the BBC's political correspondent Ben Wright said her encounter with the big beasts of Wall Street did not always look comfortable and revealed again the concern many large companies have about Brexit.