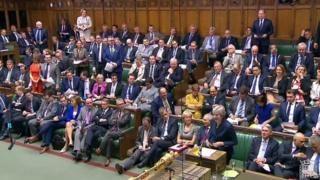 A debate in the House of Commons on banning offensive weapons has been postponed amid speculation of a Tory rebellion against the government.
MPs were due to consider proposed changes to the Offensive Weapons Bill.
More than 30 Tory MPs were seeking to water down a proposed ban on .50 calibre and other "high energy" rifles.
Ministers suggested the debate had been scrapped due to the time taken up by Theresa May's Brexit update to MPs and two other oral statements by ministers.
But Labour MPs were unconvinced, saying Conservative whips had stepped in to prevent a government defeat.
The Offensive Weapons Bill would create a series of new criminal offences relating to firearms, knives and acids including a ban on the possession of corrosive substances in a public place and their sale to under-18s.
Possessing certain firearms in private will become illegal while certain firearms, including .50 calibre rifles, will be reclassified as prohibited weapons under the terms of the 1968 Firearms Act.
The crackdown is driven by concerns about a growing black market trade in such weapons and fears they could fall into the hands of terror groups.
But a group of Tory MPs, led by Sir Geoffrey Clifton-Brown, want to amend the legislation at report stage to allow sports shooting enthusiasts to continue to use "high energy rifles" if they have installed enhanced security measures.
They say people who comply with Home Office Level 3 security standards should be granted firearms certificates to use the weapons in controlled conditions.
Speaking in July, Mr Clifton-Brown argued the weapons were too heavy to be used for criminal purposes and banning them would be disproportionate and discriminate against law-abiding, licensed gun owners.
His amendment is also backed by Labour's Kate Hoey and the DUP's Sammy Wilson. The DUP, on which Theresa May relies on her Commons majority, abstained on a committee vote on the bill last week.
But shadow policing minister Louise Haigh said senior police and firearms officers supported the ban and an increasing number of firearms offences were committed using weapons stolen from license holders.
"This government is so weak it cannot even legislate to keep people safe," she wrote.
A spokesman for Commons leader Andrea Leadsom said the debate and votes would be rescheduled at the "earliest possible opportunity".
Commons proceedings on a Monday began at 14:30 BST and normally continue until 22:00 BST. Despite the three government statements, they were set to wrap up shortly before 19:30 BST.