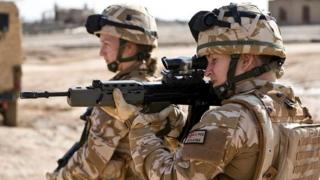 Jeremy Hunt states he would increase defence investing by ₤15 bn over the following 5 years if he ends up being head of state.
The Tory management prospect's assurance would imply investing on defence would surge to 2.5% of GDP by 2023/24, from its existing 2%.
Mr Hunt claimed the relocation would "show the world a self-confident country ready to defend its interests and values."
Defence Secretary Penny Mordaunt, that backs Mr Hunt, claimed the federal government should provide the militaries "what they need."
"Jeremy's clear commitment to do that is one reason why he has my support," she included.
Sources near Mr Hunt recommended the plan would be moneyed via financial development as well as financial "headroom" alloted by Chancellor PhillipHammond
In May, the foreign secretary said the UK should consider "decisively" increasing defence spending after Brexit
There has actually not been a full-blown Strategic Defence and Security Review, considering future defence capacities as well as difficulties, considering that 2015 as well as one is anticipated in 2020.