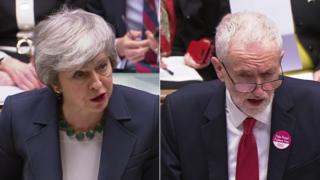 Theresa May went neck and neck with Jeremy Corbyn in the House ofCommons Here's what occurred.
This session was a little a challenge for the head of state, not always for the tough time she received from MPs, yet since she is still dealing with an aching throat.
She croaked that Penny Mordaunt, the global advancement assistant, had "very generously offered to teach me sign language" at today's closet.
MPs are because of dispute a no-deal Brexit later on, yet Jeremy Corbyn chose to start procedures early, with a collection of inquiries on where Mrs May herself depends on that concern and on Brexit as a whole.
Last evening's ballot on her withdrawal arrangement – which was beat by 149 ballots – has "finished off her deal", he informed the PM. Which method is she mosting likely to elect later on?
"I will be voting for the motion standing in my name," she responded.
(This is the activity: That this House decreases to authorize leaving the European Union without a Withdrawal Agreement and a Framework for the Future Relationship on 29 March 2019; and keeps in mind that leaving without an offer continues to be the default in UK and EU regulation unless this House and the EU validate a contract.)
Mr Corbyn proceeded with his assault, declaring that the PM "doesn't seem to understand her deal has been flatly rejected twice".
The chancellor and service assistant have both alerted of the tragic financial repercussions of a no-deal Brexit, stated the Labour leader, why was she still being "ambivalent" concerning it? Why not back Labour's strategy (which would certainly see the UK in an irreversible personalizeds union with the EU)?
"Businesses worry about the uncertainty of Brexit, but there is one thing they worry about more – and that is a Corbyn government," stated the PM.
Mr Corbyn has actually relocated in the direction of backing an additional EU mandate, she informed MPs, yet he did not also discuss it in his speech after last evening's ballot.
It would certainly be "rather reckless" for the PM to dismiss any type of choice now, stated Mr Corbyn.
"Britain's food producers are also in despair," he took place. Would she provide "tariff-free access to the single market"?
The bargain the federal government worked out in November "includes access to the European market on the basis of no tariffs", stated Mrs May.
"It might help if he'd actually read it," she included, to giggling from some MPs.
Labour's choice Brexit strategy is currently the "the credible show in town, available and ready to be negotiated", Mr Corbyn informed her.
His bargain has actually been "rejected several times" by MPs, responded Mrs May.
"I may not have my own voice but I do understand the voice of the country," she stated, triggering a holler of authorization from her very own benches, and the contrary sort of holler from the Labour side.
Speaker Bercow informed them all to relax.
"People want to leave the EU," stated the PM, recuperating her voice.
"They want an end to free movement, they want to have our own trade policy, they want to ensure laws are made in this country," stated the PM.
"He used to believe that too, why is he trying to frustrate it?"
Mr Corbyn revealed compassion for the head of state's aching throat, prior to resuming his assault by informing her she "no longer has the ability to lead".
"This is a rudderless government in the face of a huge national crisis," stated the Labour leader.
"Can the prime minister say exactly what her plan is now?"
Mrs May laid out the series of Brexit ballots where MPs can state what their sight got on the "way forward".
The federal government intended to supply leaving the EU with a bargain, she stated.
Mr Corbyn did not also count on Labour's plan and "he has nothing to offer this country", she ended.
What else turned up?
The SNP's leader at Westminster Ian Blackford asked if Mrs May intended to be the just head of state to purposely dive the UK right into economic downturn. He utilized his 2nd concern to get in touch with the PM to whip her MPs elect versus a no-deal Brexit later on (she has actually used them a complimentary ballot).
Labour's Stephen Hepburn inquired about cuts to institution spending plans.
The Verdict
Here is BBC Parliamentary Correspondent Mark Darcy's handle the session:
It's among those PMQs where you locate on your own asking yourself "what's the point of PMQs?"
The lead exchanges in between Theresa May and Jeremy Corbyn were nearly heroically dull; candid inquiries clanging off the PM's armour plating …
The one trigger flew when Theresa May grated out the line"I may not have my own voice, but I do understand the voice of the country"
More intriguing was the line of examining from her backbenchers.
The PM was pushed to back the brand-new manifestation of the "Malthouse Compromise" proposition, which recommends a type of "managed no-deal Brexit" and a two-year shift duration throughout which Britain remains to pay cash right into the EU while discussing an undefined longer-term profession connection.
This is seen (in an impressive mix of mottos) as the "Get out of Jail Free Card" which can "get the (Tory) band back together again", in the following large collection of Brexit ballots later on today, on the choice of leaving the EU without an offer.
It will certainly interest see if this can bring in Labour elects in addition to Conservatives and DUP MPs – since if it can not, it will not have the ability to lug theCommons
The PM provided no tip of any type of strategy to whip for this change, because, thus several Brexit recommendations, it may prompt a wave of pastoral resignations, from one intrigue or the various other.
Another essential sub-theme was blade criminal offense – with 2 Conservatives whining that there were way too many circumstances where belongings of a blade did not cause a prison sentence, and one Labour MP connecting climbing blade criminal offense to the cuts in cops numbers.
One last story: today I was talking to a Labour MP and a Conservative MP, and the possibility of a breeze basic political election turned up.
"We'd be slaughtered," stated the Labour MP.
"No, we'd be slaughtered…" responded theConservative
Both laughed the anxious laugh of the damned, prior to concurring that a political election was not likely. At the very least in the meantime.