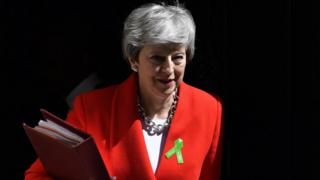 Theresa May is due to meet elderly Conservative MPs that are requiring she establishes a day for her separation from Downing Street.
Under stress from her MPs to stand apart, the head of state is satisfying the exec of the backbench 1922 Committee to review her future.
But present leadership policies suggest she can not be officially tested up until December.
Mrs May has claimed her separation would certainly depend upon providing Brexit.
Last month, the 1922 Committee executive narrowly decided against changing the party's leadership rules to enable a very early difficulty to Mrs May.
But she was asked to offer a "clear roadmap" for her separation.
On Thursday, elderly Conservative MPs are anticipated to press her to laid out that schedule, no matter whether Parliament backs her withdrawal arrangement following month.
After the talks with the head of state, the exec will certainly hold one more conference where modifications to the leadership policies can be talked about once again.
Theresa May's long farewell
Twice my coworker in Paris asked the head of state if she would certainly surrender if her Brexit strategy is turned down by MPs once again. Twice she entirely swerved the inquiry.
You can not condemn her for desiring to prevent it. Theresa May is not specifically keen on exposing a lot in meetings regardless.
And for her to go anywhere near contending her possible departure would certainly have taken a breath a lot more fire right into the crazy conjecture.
But it is remarkable that the head of state really did not also duplicate any one of her rehearsed lines concerning her assurance to see this stage of Brexit via, and after that go.
Sir Geoffrey Clifton-Brown, treasurer of the 1922 Committee, claimed: "What I would like to see is her set out a timetable to trigger a leadership contest."
He claimed it would certainly be "infinitely preferable if she set a date rather than us force her out".
Mrs May's previous principal of personnel, Nick Timothy, claimed in the Daily Telegraph that it is "beyond time" for the head of state to approve "the game is up".
He claimed she should "do her duty and stand aside" in order to stay clear of a "national humiliation" and also conserve the Conservative Party.
The conference follows Mrs May introduced the withdrawal expense, a collection of brand-new regulations required to take us out of the EU, will certainly be put to a vote in the Commons in early June.
Mrs May claimed the expense would certainly "ensure that we deliver Brexit for the public" and also Brexit Secretary Stephen Barclay claimed the head of state's bargain would certainly be "dead" if MPs did not pass it.