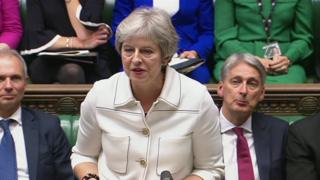 Prime Minister Theresa May has called for "cool, calm heads" as she insisted a Brexit deal was "still achievable" despite differences with the EU.
She said it was "frustrating" the two sides could not agree how to guarantee no hard border in Northern Ireland.
The issue could not "derail" the chances of striking a deal, she said.
And she sought to reassure critics of her approach that the UK would not end up in "permanent limbo" tied to EU customs rules.
The UK is leaving the EU in March 2019, and both sides cannot agree on how to avoid new border checks between Northern Ireland and the Republic of Ireland.
Mrs May has dismissed the EU's previous suggestion of keeping Northern Ireland aligned to its trade rules as a safety net, or "backstop" arrangement, saying this would divide the UK.
Giving a statement to MPs, she said the EU had "responded positively" to her proposal for a UK-wide arrangement – but that it was insisting on keeping a specific arrangement for Northern Ireland on the table.
But she said she did not think the two sides were "far apart", adding: "I continue to believe a negotiated deal is the best outcome for the UK and the EU and that such a deal is achievable, and that is the spirit in which I will continue to work with our European partners."